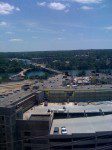 Thinking about moving to Spring Condominium?
The unique feature that separates Spring Condominium from some of the other downtown towers is the view. It is a point tower which allows floor plans to offer multiple views from each unit. Typically, you have to choose a downtown, UT tower or a lake view. Most of these units had 2 or 3 unique views in each unit, so you can have more than one.
Explore Spring Condominiums for Sale below
Where is Spring Condominium located?
Spring is located at 300 Bowie Street, Austin TX 78701
What amenities does Spring Condominium offer?
Rooftop Pool with outdoor kitchen and dining
Private dining room for dinner parties
Two guest suites
I can create a custom home search for a more comprehensive list of condos that fit your criteria…..