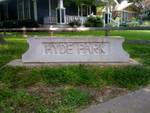 Thinking about moving to Hyde Park?
Founded in 1891, Hyde Park has a very small town feeling, with tree-lined streets and historic architecture. Hyde Park is known for its eclectic mix of property types, from modern to classic bungalow designs.
Hyde Park Homes for Sale
Where is Hyde Park located?
Hyde Park is bordered by 48th Street to the north and 38th Street to the south, Guadalupe Street to the west and Duval Street to the east.
What kind of Home Styles are in Hyde Park?
From classic historic homes, bungalows, to contemporary designs, Hyde Park is a fusion of old and new architecture.
Things to do in Hyde Park
Elizabet Ney Museum
Shipe Park and Pool
Hancock Golf Course
What School District is Hype Park located in?
Hyde Park is located in the Austin Independent School District.